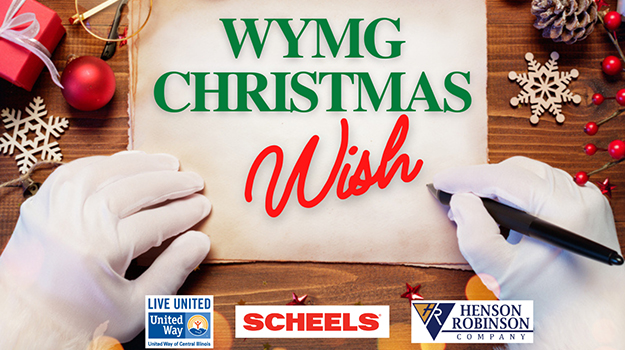 Christmas wish is presented by WYMG 100.5, Rewind 93.5, United Way of Central Illinois SCHEELS, and Henson Robinson Company. 
Thanks to your generosity, Christmas Wish provides families in need in our community with goods, services, or Christmas gifts. For some families, this may mean paying an overdue utility bill, a set of snow tires for another, baby items, or food for yet another.  The Christmas Wish program attempts to make the holiday season a bit brighter for those families who have fallen on hard times due to illness, layoffs, financial difficulties, or other trying circumstances.
Do you want to make a donation and help local families during the holiday season?
To make a secure online donation please click "Donate Today" below to fill out the payment form. If you'd like to make a cash donation, you can also send your check to:
WYMG Christmas Wish
3501 E Sangamon Avenue, Springfield 62707
Do you want to nominate a deserving person to receive a Christmas Wish?
Click "Nominate" below and tell us more about the individual you think needs an uplifting Christmas Wish this holiday season.