Each year, United Way of Central Illinois and 211 receive phone calls from thousands of people in our community in need of help. The United Way Resource Center features both community and nonprofit resources designed to help those in need and the agencies which serve them.
The resource center provides topical, relevant information on a variety of health and human services issues, from health related fact sheets to educational resources for parents.
United Way's 211 is an easy-to-remember phone number that connects individuals with resources in our community. 211 is your one-stop connection to the local services you need including utility assistance, food, housing, child care, after school programs, elder care, crisis intervention, and much more. 211 is always ready to assist you in finding the help you need.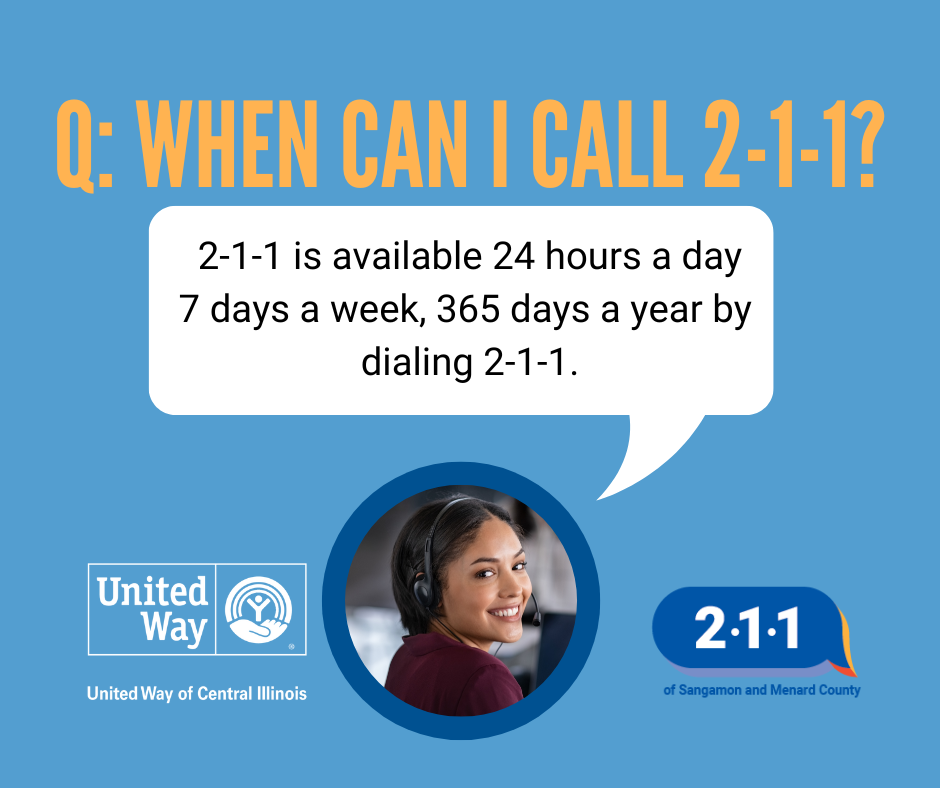 Simply dial 211 or call 1-888-865-9903.
You can also access Illinois 211's growing online database of services HERE.
With approximately 1.5 million nonprofit organizations in the United States plus scores of government agencies, finding help can be confusing and intimidating. People who need help often do not know where to begin. 211 call centers are staffed by trained specialists who quickly assess the callers' needs and refer them to the help they seek. It's simple to remember, accessible to everyone, toll-free, available 24/7, with multilingual capabilities.
211 in Sangamon County is funded by United Way of Central Illinois. By bringing this service to the community, especially at a time when more individuals and families need health and human service support, United Way is fulfilling its mission of mobilizing resources to meet community needs.
---
Dial 211 or call 1-888-865-9903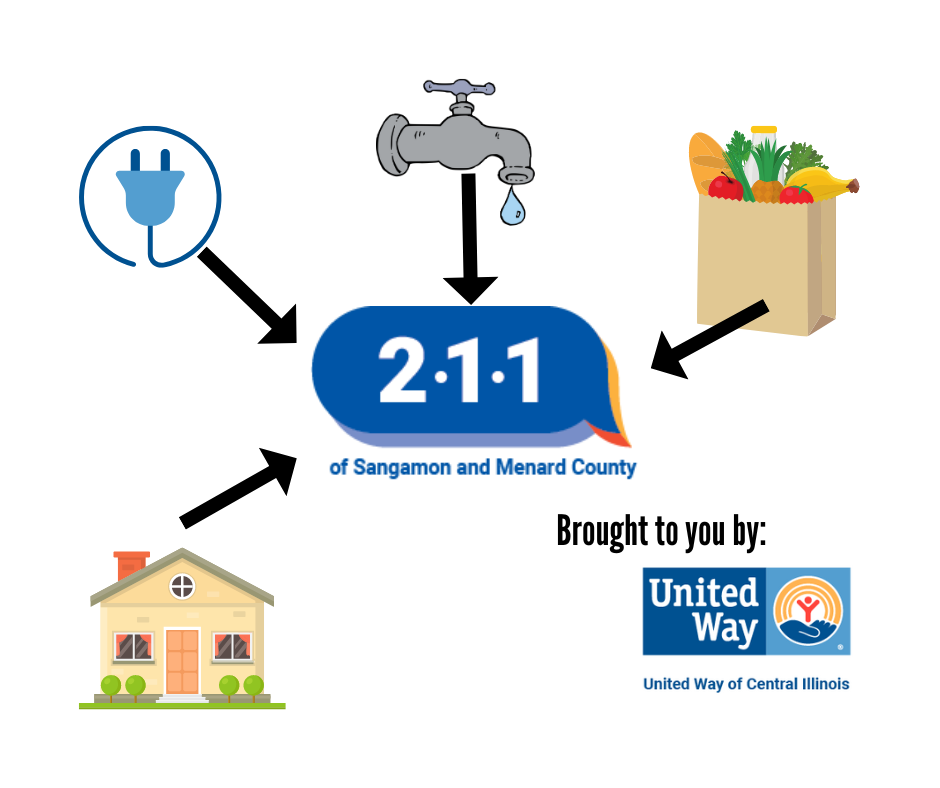 Dial 211 from anywhere in Sangamon or Menard Counties and you will reach a highly-trained call specialist who will assess your needs and provide referrals to the resources in your community. Every day, call specialists help callers find assistance for complex issues such as financial problems, substance abuse and suicide prevention and for simpler issues such as finding volunteer opportunities and donation options. 211 is available 24 hours a day every day of the year. Multilingual assistance and TDD access is also available.
211 enables people to get help or give help.
211 offers information on a broad range of services, including rent assistance, food banks, affordable housing, health resources, child care, after-school programs, elderly care, financial literacy, and job training programs. Specialists at 211 centers also facilitate thousands of volunteer hours.
---
211 benefits the nation.
The human services system in many of our cities and states is often confusing, costly and time consuming for consumers seeking to give or get help. It need not be this way. A 211 system produces cost savings for taxpayers, employers and government; and 211 in any community saves time and enhances the human services experience for those needing assistance.
Supporting 211 benefits your community.
211 is locally designed by community stakeholders, who are aware of their local and state needs and resources. 211 is part of the community fabric and serves the local community. Businesses, nonprofit organizations, and government officials support 211 as a way to improve the lives of the residents in their communities. 211 covers over 86% of the nation. 35 states, District of Columbia and Puerto Rico have 100% coverage. The two states with less than 20% coverage are Illinois and Arkansas.
---
211 enhances public safety and crisis recovery efforts.
The nation is prepared to make considerable investments in public safety and disaster relief infrastructure and capacity in response to events of natural or human agency. From hurricanes and floods to bio-terrorism, 211 call centers that already exist in communities, operating 24/7, are the logical platform for building emergency response communication capacity.
In the wake of the Hurricanes Katrina and Rita in 2005, hundreds of thousands of Louisiana, Mississippi, Texas, and Alabama residents called 211 with a multitude of needs, including shelter, transportation, medical, food and water, construction materials, mental health, and questions about the availability of and application process for federal, state, and nonprofit assistance. 9-1-1 referred non-emergency calls to 211, freeing up 9-1-1 operators for life-and-death situations.