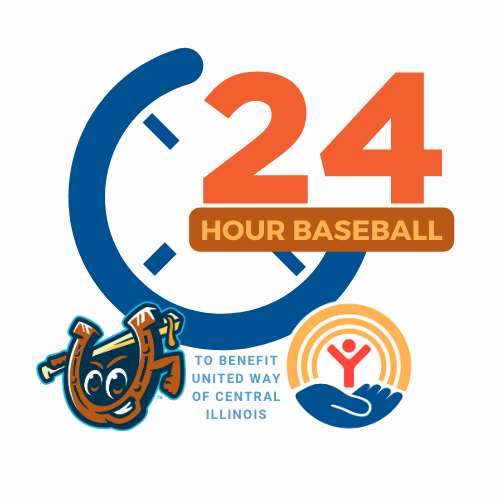 24 Hour Baseball with Springfield Lucky Horseshoes
When: Friday, August 25 at Noon - Saturday, August 26 at Noon
Where: Springfield Lucky Horseshoes, Robin Roberts Stadium
1415 N Grand Ave, Springfield, IL 62702
Register a Team
9 players per team.
Register and raise a minimum of $500 to support the United Way of Central Illinois.
Click below to register for a one hour time slot. United Way will reach out to you to you with final details.
Event Details
Start planning the FUN!
Teams can have a team name and team costume theme (think: 80's theme, crazy hair...).
Post about your team on social media to gather donations and excitement!
Friends and family want to watch you play? Great! The stadium will be open with a suggested donation at the door.
Plan on an eventful after-party starting at noon on Saturday! Stay tuned for more details.