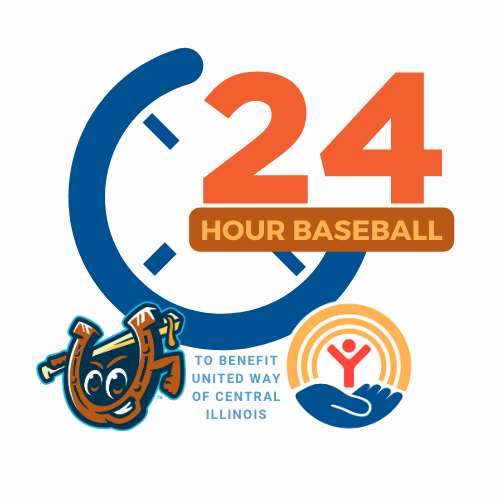 24 Hour Baseball with Springfield Lucky Horseshoes
When: Friday, August 25 at Noon - Saturday, August 26 at Noon
Where: Springfield Lucky Horseshoes, Robin Roberts Stadium
1415 N Grand Ave, Springfield, IL 62702
Register a Team
9 players per team.
Register and raise a minimum of $500 to support the United Way of Central Illinois.
Click below to register for a timeslot of one, two, or more hours. United Way will reach out to you to you with final details.
Event Details
Start planning the FUN!
Teams can have a team name and team costume theme (think: 80's theme, crazy hair...).
Post about your team on social media to gather donations and excitement!
Friends and family want to watch you play? Great! The stadium will be open with a suggested donation at the door.
Plan on an eventful after-party starting at noon on Saturday! Stay tuned for more details.
Frequently Asked Questions
Want more than an hour of playing time?
Great! Just let us know, and we can reserve multiple time blocks.
Have a large organization?
You can register as many teams as you like. There's no limit!
Here's an idea: Sign up different departments and compete against each other.
Don't want to play baseball?
It's not just baseball! Choose from baseball, softball, whiffle ball, Chicago ball, or even kickball!
Previous
Next
Sponsored by